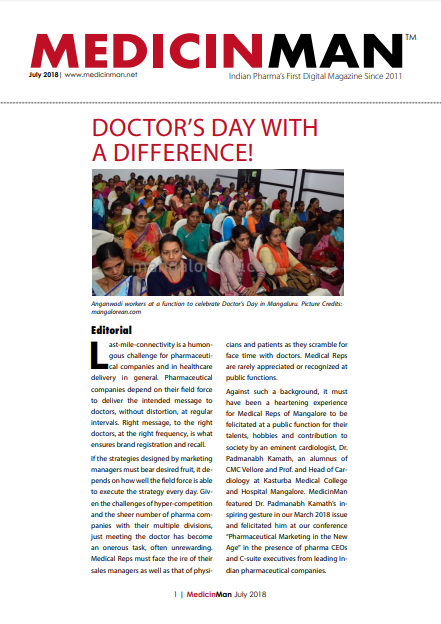 Inside this Issue
1. Editorial: Doctor's Day with a Difference!
MedicinMan reports on a unique celebration of the special day in Mangaluru, Karnataka, organized by a prominent city surgeon and professor and honoring the work of anganwadi workers, medical representatives and the District Health Officer.
2. Briefing the Design Agency: A Skill Oft-Neglected by Pharma Brand Managers by Vivek Hattangadi
The design brief can make or break a brand campaign; here's how to get it right.
3. Indian Pharma Highlights for June 2018 by IQVIA
The Indian pharma market clocked 10,460 Crores for month of June with a robust growth at 12.8%. Here are the biggest winners.
4. Pharma's Silver Lining Continues to Broaden by Salil Kallianpur
Salil Kallianpur, Executive Editor, MedicinMan, comments on the IQVIA numbers for June 2018
5. Pharmacology Refresher: Drugs Acting on the Nitric Oxide Pathway by Dr. Anand Lakhar
The nitric oxide pathway in the human body is key to the treatment of a variety of diseases from angina to erectile dysfunction
6. Philips Launches India's 1st Future Health Index by Press Release
The FHI is "a research-based platform that helps to determine the readiness of countries to address global health challenges"
7. Book Review: Encyclopedia of Nobel Laureates
Download the issue here: PDF