Download the complete brochure: PDF [400 KB]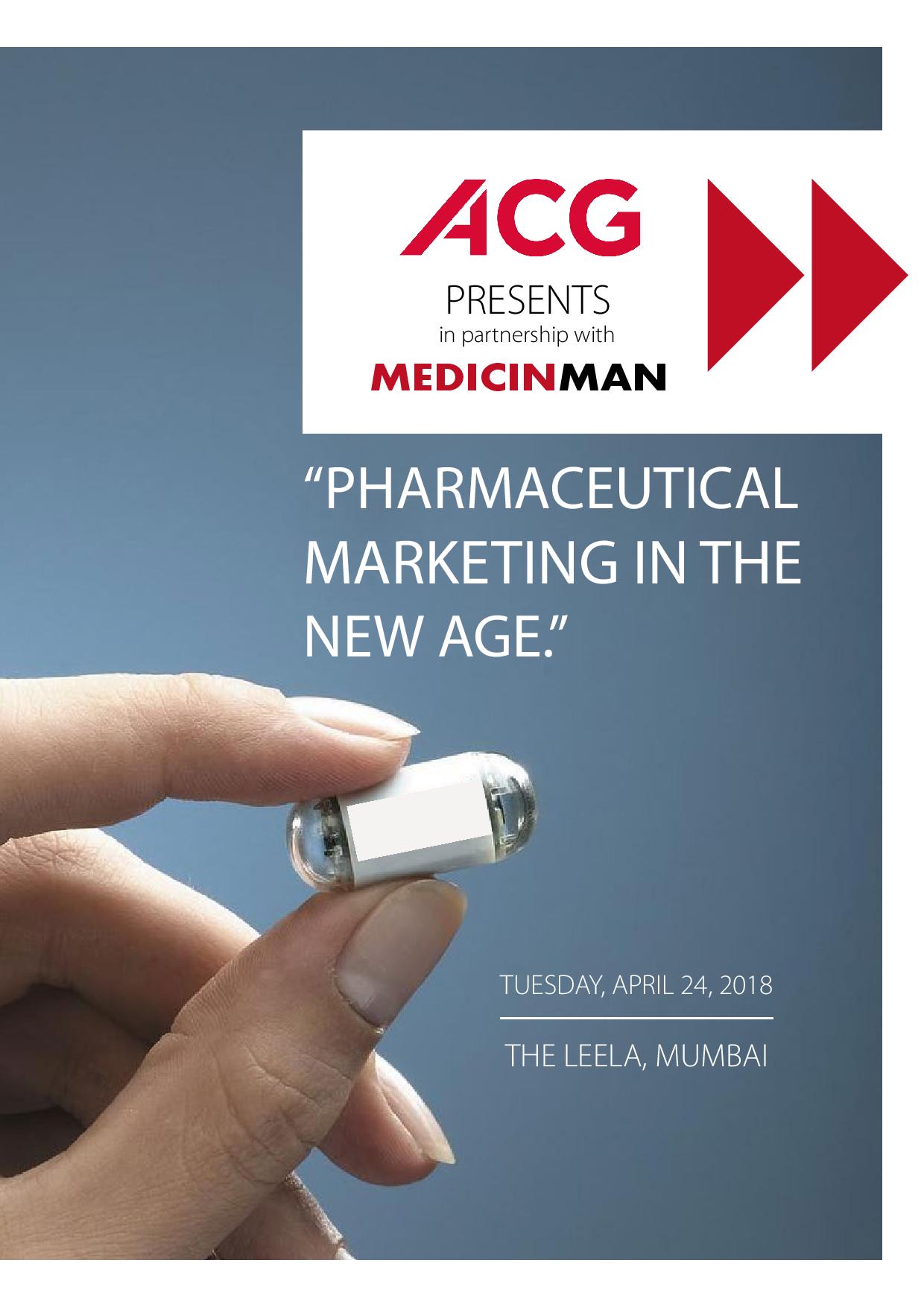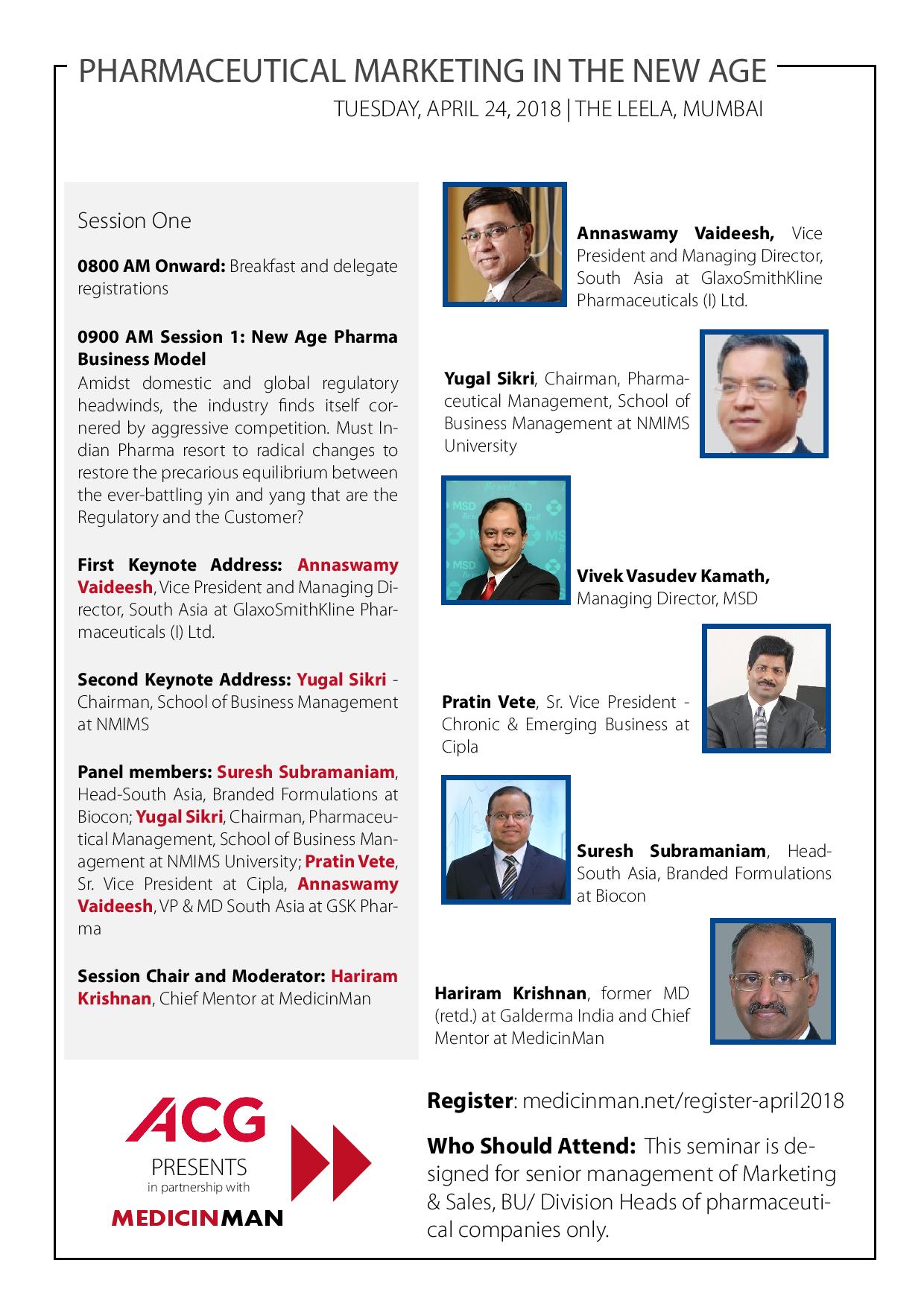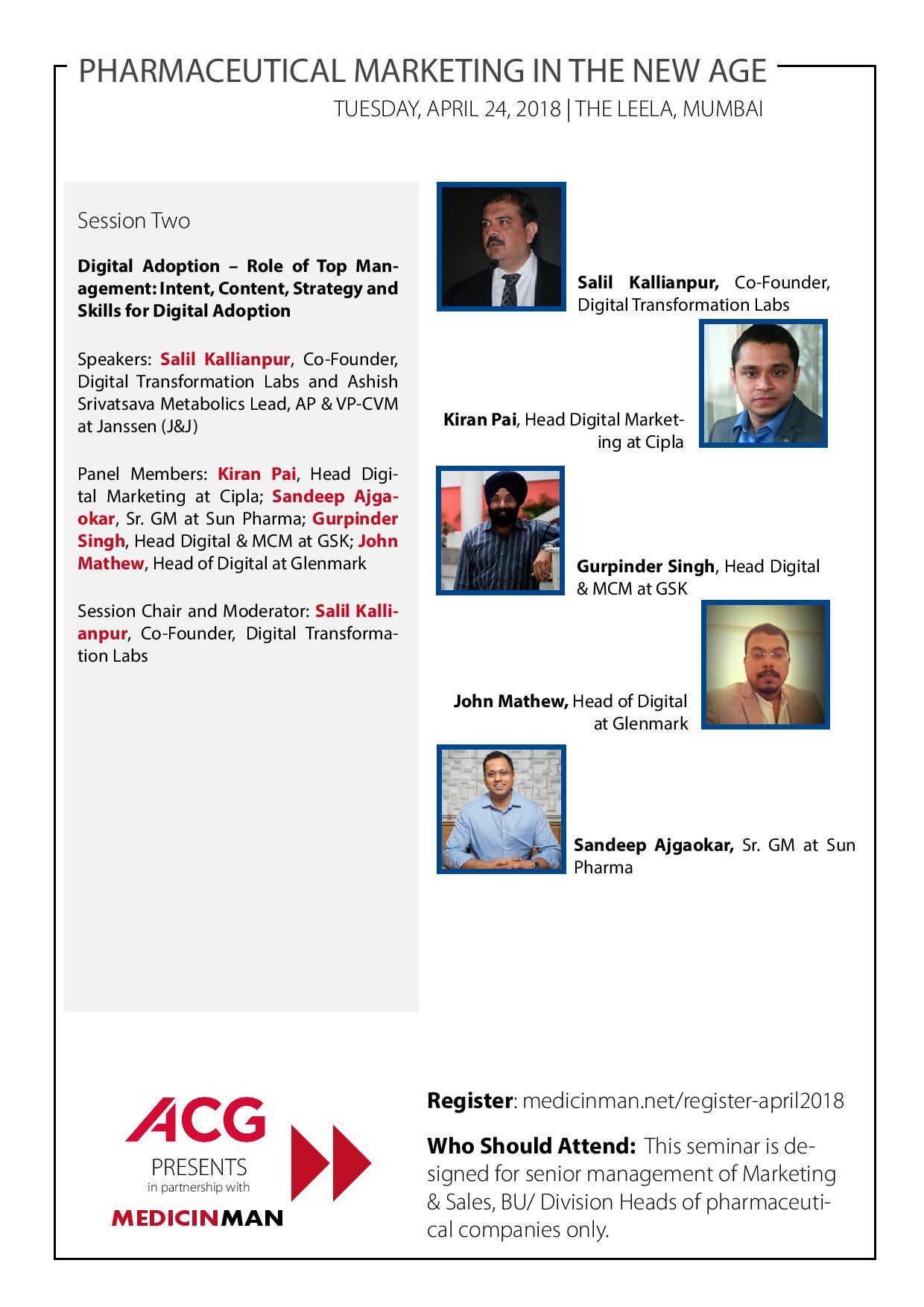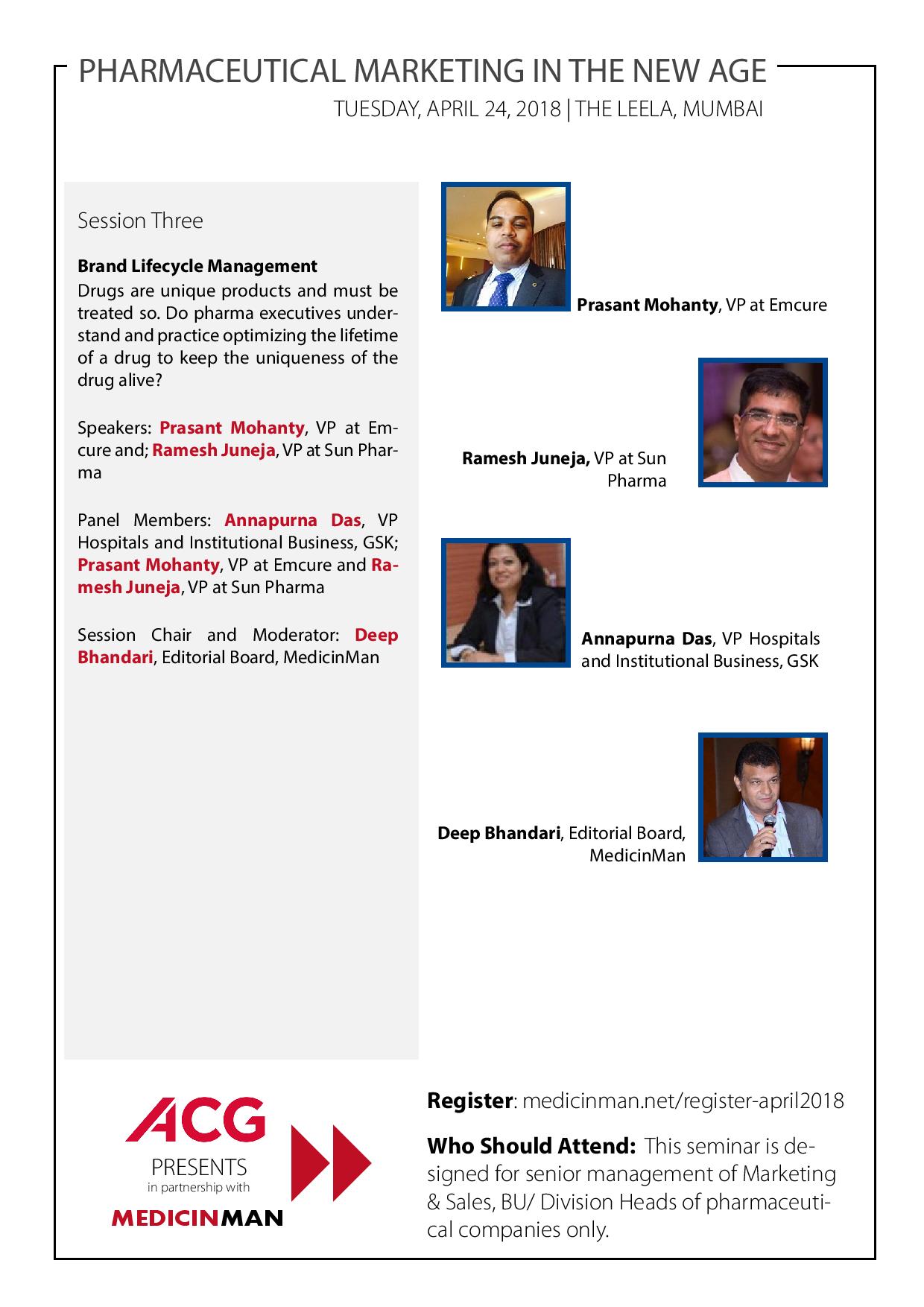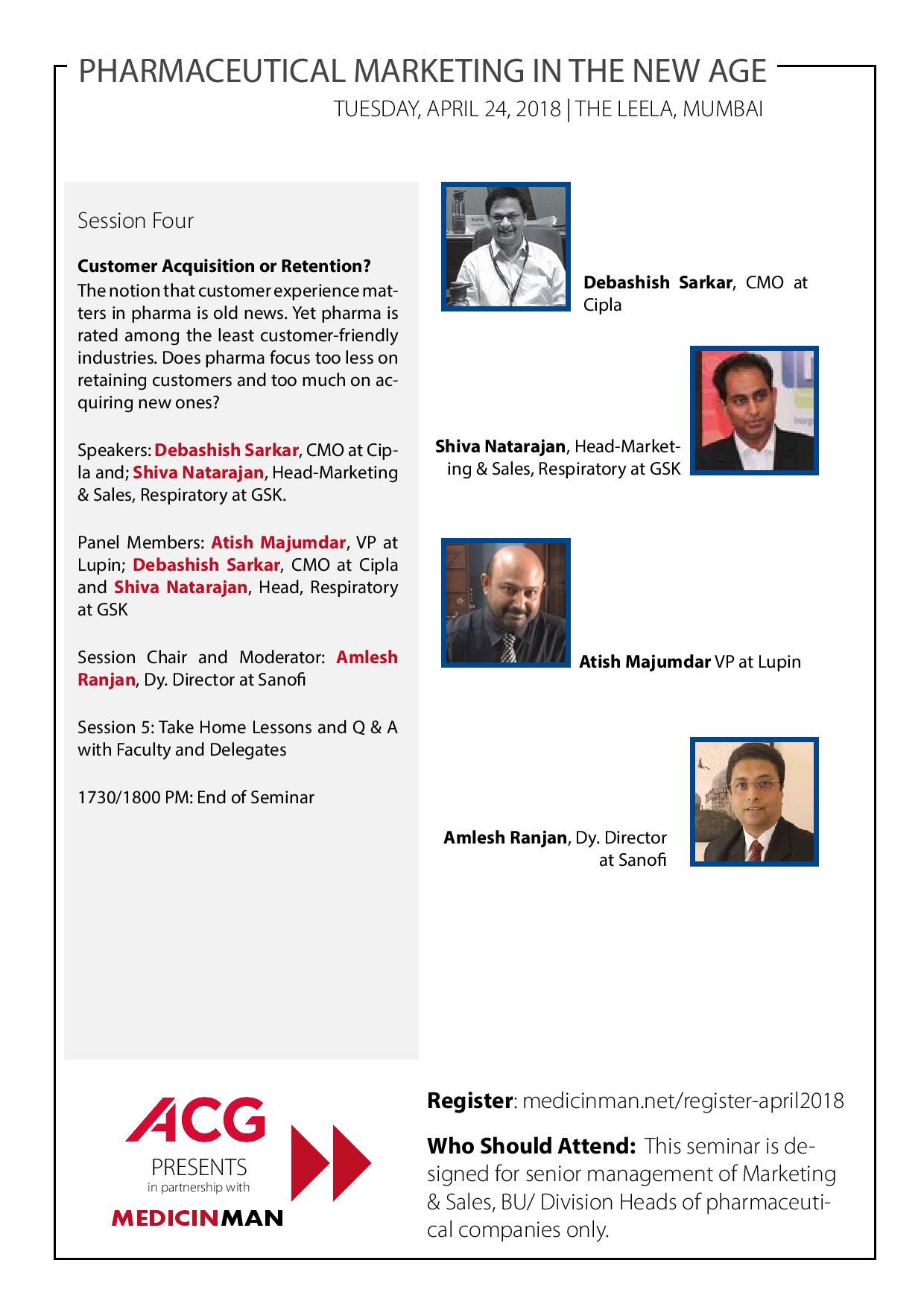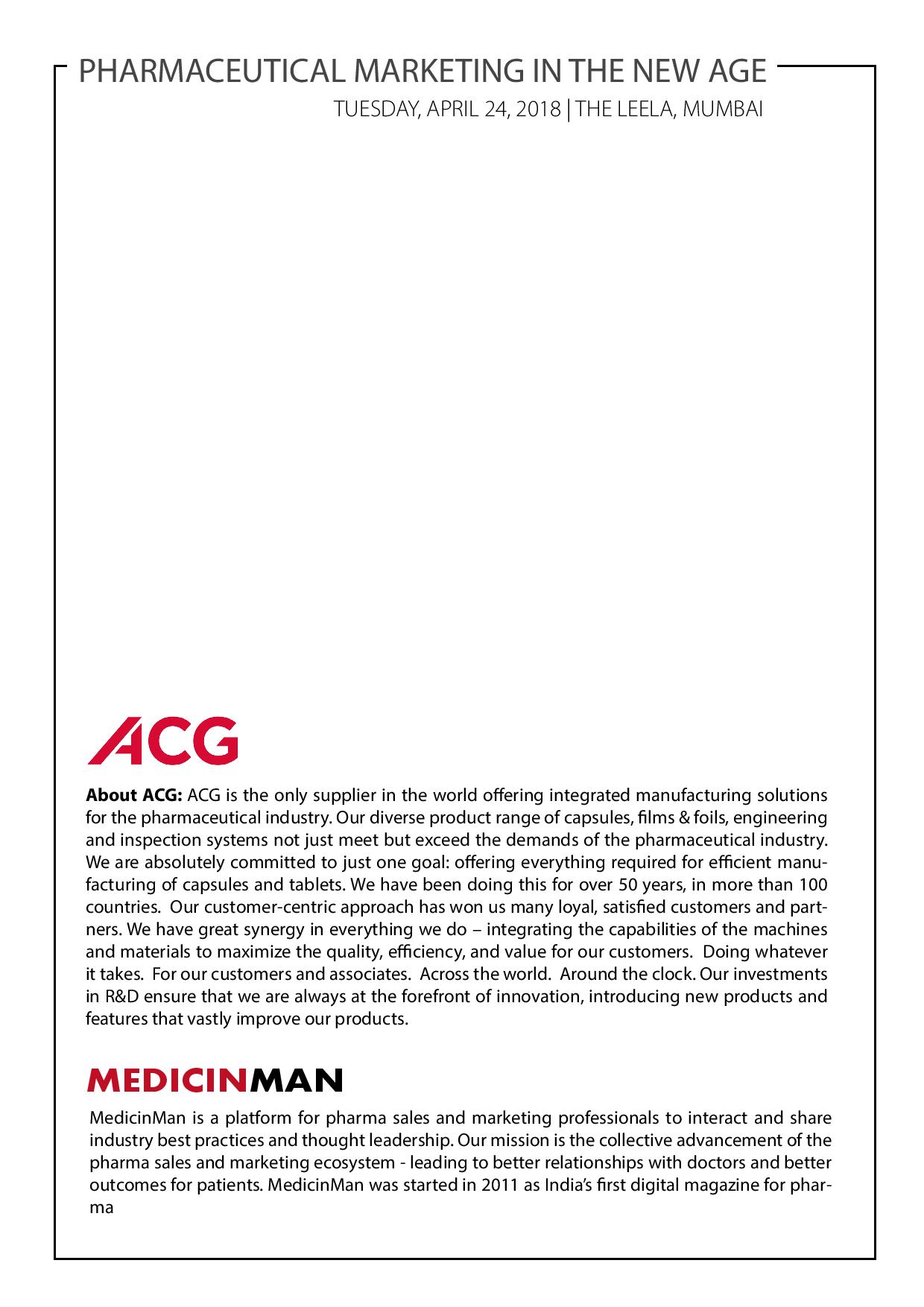 Download the complete brochure: PDF [400 KB]
Register below:
Important: this conference is intended for pharma marketing managers only.
---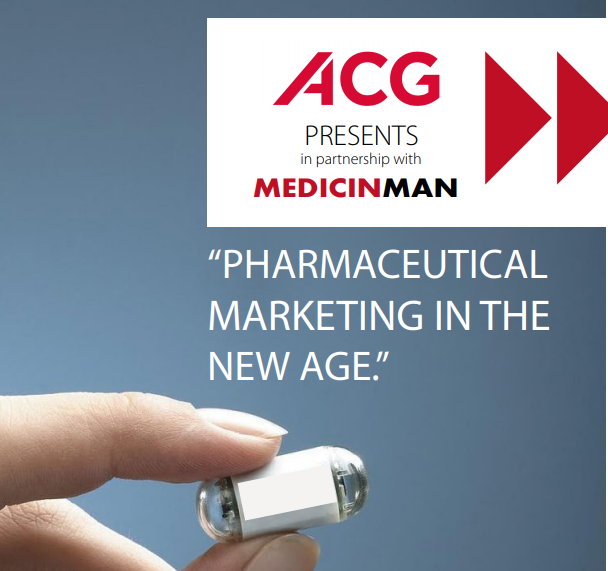 MedicinMan, in partnership with ACG, announces "Pharmaceutical Marketing in the New Age" – a conference for Pharma Sales and Marketing decision-makers. Registrations can be made below.
By way of introduction to the conference, Salil Kallianpur (LinkedIn) – Executive Editor at MedicinMan tells us how digitization and shifting customer expectations are redefining the traditional role of a pharma company – and marketing can keep pace.
P
harmaceutical marketing has always been challenging. Not being able to reach the final consumer makes it slightly complicated to create brand equity and customer loyalty in the true sense of the word. Since doctors are the key decision makers on behalf of their patients, the craft is often informally referred to as 'gate-keeper' marketing.
Pharma marketing has got more challenging in the last few decades as new medicines are only a marginal improvement over the ones that are already available. Still, those efforts were handsomely rewarded so long as healthcare spending remained unchecked. However, more recently, winds of change have swept over the industry bringing in a more austere budget environment. Customer willingness to pay large sums for minute benefits is diminishing in the western world, while in self-pay markets such as India, access trumps marketing savvy as the driver of sales due to price caps being enforced.
Several other equally important trends, including the growing power of the patient, the role of digital technology, and the potential for new ways to speed the transition from factory to pharmacy have complicated the status quo for the industry. And then you have the headwinds created by the Indian government, the US-FDA and the NPPA. In this new age, we need to be thinking hard about how marketing must be redefined to remain relevant.
Trickling productivity of global R&D pipelines and the recent clampdown on irrational fixed dose combinations means fewer new products to launch. Enforcement of INN (generic name) prescriptions only means dilution of brand equity. Tighter price control puts the brakes on growth via price increases. The rise of activism by health journalists and the formation of patient groups – though very nascent – means greater social accountability. As you can see, science, social policy, and economics are all leading us fundamentally in the same direction—toward a new way of thinking about the drug-value proposition.
"Marketing 2.0" in the pharmaceutical industry is no longer about just saying that our product is different and hoping customers will see it that way. It's very much about making it so—and then about finding our way to engage customers in a "conversation" that helps create the value rather than just promoting it through armies of medical representatives. We need to develop new, end-to-end processes that shape our relationships with physicians, payers, patients and care-givers.
So, what must pharma marketers today do differently in the new age? The single most important change requires a transformation that replaces the traditional "product-focused" marketing with a "customer-focused" model. Customer focus is something that is much talked about but is challenging to adopt and execute with consistency. To walk that walk, companies, need to be rethinking not only about how they go to market, but also about how they are organized to differentiate their products in a highly cluttered and hypercompetitive market like India.
In a product-focused marketing model, everything is about you— what your product does and how it suits you to deliver your product and your message.
In a customer-focused marketing model, one takes a hard look at what customers want and need, assimilates the information, and then looks closely at one's own way of operating through that customer lens.
Customer-focused marketing is not just about looking for points of existing alignment or trying to change the customer, so he fits in your world, which has been the defining modus operandi of traditional product-focused marketing.
Are pharma companies properly structured and situated to design these holistic solutions, or do they need to focus on designing the "plug-in" technologies that support broader health initiatives? Is the pharmaceutical company of the future an Amazon that creates new business models or an Intel that powers them?
Technology as we all know, is barely the answer. A new business model and a fresh mindset is. As an industry, are we willing to broaden our innovation mandate and make it our business, literally, to scan the environment for disruptive technologies that restructure various aspects of healthcare delivery. Do we think it is our responsibility to provide better solutions to our customers that are 'beyond the pill'?
This puts the onus on pharmaceutical companies at the highest level of management to bring in a new way of thinking and behaving. What does the industry need to do for the next quantum leap? It is quite likely to require the reinvention of the pharmaceutical company. Whatever enabling technologies drive that reinvention, we should know that delivery of enhanced customer experience will be both the driver and the measure of success. How well are we prepared for it?