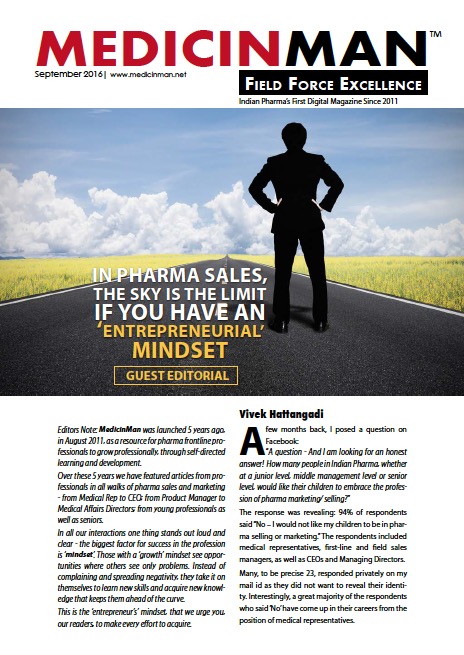 Inside this Issue
1. Guest Editorial: In Pharma Sales, The Sky's the Limit if You Have an 'Entrepreneurial' Mindset by Vivek Hattangadi
The biggest factor for success in the profession is 'mindset'. Those with a 'growth mindset' see opportunities where others see only problems.
2. Rural Marketing: Challenges and Opportunities for Indian Pharma by Chandan Kumar
A very unique set of challenges but an ocean of untapped opportunity, make rural markets an exciting place for resourceful pharma marketers?
3. Book Review: The Three Box Solution by Vijay Govindarajan by Reviewed by K. Hariram
International strategy guru Vijay Govindarajan on how to effectively manage the present without losing sight of the future.
4. #Finding60InIndia: the Campaign to Raise Progeria Awareness in India by Preeti Mohile
How an integrated media campaign helped identify children living with Progeria in India – a disease that affects 1 in 20 million people.
5. Properties of a Highly Effective Leader: Learning from Pharmacology by Mrudul Kansara
What the properties of chemical substances can teach us about effective leadership.