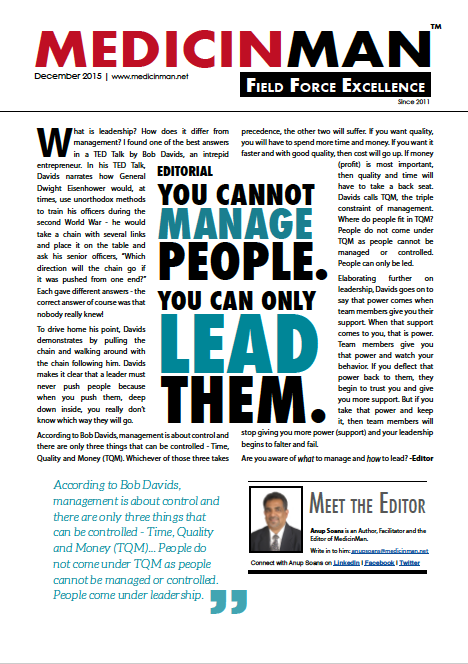 Inside this Issue
1. Fieldwork and the Brand Manager by Vivek Hattangadi
Getting on the field will provide the Brand Manager clarity about the ground reality of the brand and also help her develop empathy for the MR.
2. BOOK REVIEW: Total Communication by Vivek Hattangadi reviewed by Anup Soans
A complete guide to verbal and non-verbal communication for the pharma professional.
3. What You Measure is What Gets Done by Hanno Wolfram
The KPIs followed by pharma demonstrates where its heart lies – with patients or profits..
4. What is the Role of a Performance Manager? by K. Hariram
Lack of understanding about the role can will lead to much frustration both the manager and his team. Here's what is expected from him.
5. Rock Star Resolutions for Product Managers by Soham Wagh
New Years' Resolutions for Product Managers that will lead to Star Performance.
6. Qualifiers and Modifiers in Incentive Planning by Amit Jain
Two foundational elements in incentive plan designing explained.