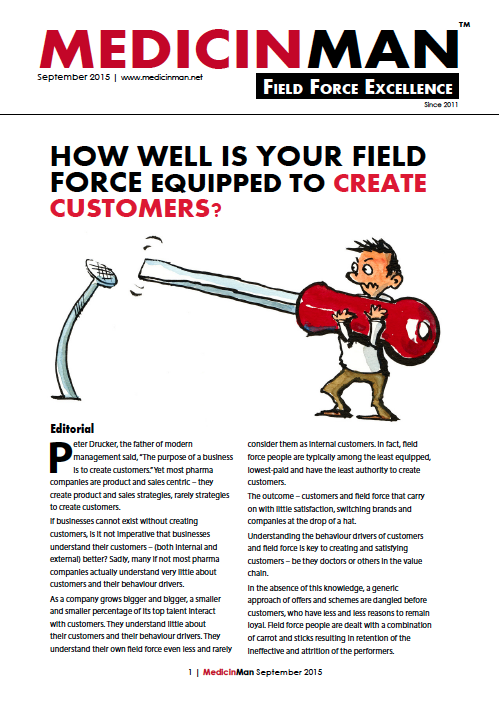 Inside this Issue
1. Leading with Purpose by K. Hariram
Pharma managers must lead their team with a clear purpose – to make work meaningful.
2. Healthcare and the Freedom of Choice by Salil Kallianpur
Patients should be free to choose their healthcare provider rather than be dependent on the government. Only then will the cost of healthcare come down and the efficiency of the system increase.
3. Patient Access Part-I: A Conceptual Overview by Pankaj Mehrotra
In a highly fragmented yet alluring healthcare market one of the ways to survive and thrive is to increase patient access.
4. How to Communicate Your Incentive Compensation Plan by Amit Jain
Once you have designed an incentive compensation plan for your salesforce, how effectively you communicate it will determine the buy-in and eventual success of the plan.
5. Effective Pre-Call Planning Using Predictive Analytics by Dr. Palakodeti Ratnakar
Analytics and mobile can make the pre-call planning process dynamic and greatly increase the ROI of a call.
6. BOOK REVIEW: 'Targetitis: the Current Organizational Disease' by Vivek Hattangadi
A mindless drive to set targets and measure achievement can be detrimental to the health of the field force!
7. Medical Rep or Sales Person? by Hanno Wolfram
Purely economic considerations have reduced the role of the Medical Rep from scientific partner to the Doctor to a mere salesperson. How can this be amended?