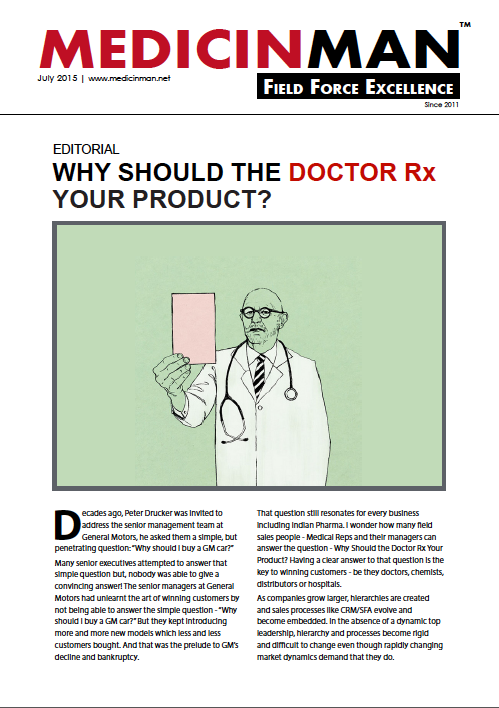 Inside this Issue
1. New Era in Pharma Growth by Cambridge Consultants
Innovation and technology are key to growth of pharma companies in emerging markets according to a workshop conducted by Cambridge Consultants in Mumbai.
2. India Makes it Big at Cannes Lions Health 2015 – MedicinMan Report
Indian agencies picked up 10 shortlists in the healthcare category with Ogilvy & Mather, Mumbai and Medulla Communications winning a Silver Lion and a Bronze Lion respectively.
3. Leading with Conviction by Sunil Bajaj
In order to lead with conviction, leaders must make the effort to develop themselves and others.
4. Pharma Sales Management and the New Front-line Manager by Anup Soans
How a new Front-line Manager can make the transition from being a great performer to getting great performance from others.
5. Do We Need Front-line Managers? by K. Hariram
A hard look at the impact of frontline managers on pharma top-lines and bottom-lines.
6. Winning the Casino Royale of Multi-Channel Marketing by Phanish Chandra
How the changing habits of India's net-savvy and mobile friendly population is impacting pharma's marketing strategies – and how to set yourself up to win.